The Laurels of University Park Staff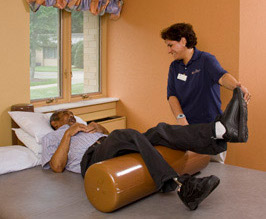 What differentiates one skilled nursing & rehabilitation center from another? The answer is... the people who work and reside there! The people set the tone, the atmosphere, and the expectations. At The Laurels of University Park, we take great pride in ensuring that everyone feels like part of our family, and that they are treated as special "guests" in our home.
The Laurels of University Park employs a team of highly qualified medical professionals, including a Medical Director, Registered Nurses, Restorative Care Nurses, a Wound Care Nurse, state tested Certified Nursing Assistants, Physical Therapists, Occupational Therapists, and a Speech Therapist. Our on-site Rehab, Dietary, Social Work, and Activities departments provide personalized and compassionate care to each guest. From the moment you walk through the front doors, the warmth and caring of the staff will begin to gain your trust and confidence, as they strive to exceed your expectations.
Unlike other facilities that use "contracted" staff members, each member of the team at The Laurels of University Park is directly employed, not "contracted". Each Team Member takes great pride in portraying "The Laurel Way of Caring", as they strive for excellence in providing only the highest standard of care and services to every guest, and to every family member and visitor. Come on in! Visit a while! Let us show you our very best... let us show you The Laurel Way.
Kelly Carter, LNHA, Administrator
Kelly graduated from VCU in 2000 with a Bachelor's in Social Work. Prior to her start in long-term care, Kelly worked with the mental health and intellectually disabled population. Kelly began her journey in long-term care in 2003 as the Director of Social Services at The Laurels of Willow Creek then transferred to The Laurels of University Park. In 2013, Kelly obtained her Virginia State licensure to practice as a Licensed Nursing Home Administrator. In 2014, Kelly was promoted to Administrator at The Laurels of University Park. In her free time, Kelly enjoys running and spending time with her husband, three teenagers, and dog.
Amy Gunter, Rehabilitation Services Director
Amy Gunter returns to The Laurels of University Park after 6 years, this time as the Rehab Services Director. A graduate from VCU in 1996, Amy has worked as an Occupational Therapist for over 20 years along the continuum of care, including inpatient Rehab, day programs, a community-based brain injury program and skilled nursing facilities. She has 5 years of experience as a Rehabilitation Services Director and is excited to help support the amazing Rehab team at The Laurels of University Park to help to continue their legacy of excellence in care for both our short-term and long-term guests.