Exceeding Expectations at The Laurels of University Park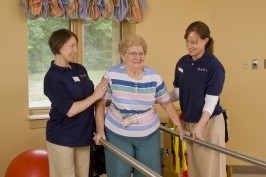 At The Laurels of University Park, it is our mission to create a legacy by exceeding the needs and expectations of those we serve while embracing The Laurel Way. We understand that caring is more than providing excellent medical and guest services. It also includes being a companion and treating each guest with the utmost dignity, respect, and compassion.
"The Laurel Way of Caring" can be found in a warm smile, a kind word, or a comforting touch. We are passionate about our mission, and it is reflected in the letters we receive from guests and family members.
"The people here are so friendly and helpful."

Guest, J.S.
"...Everyone here is so nice and kind... First thing in the morning everyone has pride... How do you say thanks for all you did for me... I just can't thank them enough for their kindness."

Guest, R.S.
" The Laurels of University Park has consistently provided care to meet and exceed our expectations. My mother's caregiver is always pleasant, personable and very hard working. They are willing to go above and beyond the call of duty in caring for their patients. This is rare!"

Family, B.M.
"This is my home now, and I am pleased that the staff at The Laurels of University Park helps me feel that way."

Guest, A.B.
"I have been genuinely pleased with the overall services received, including the therapy, nursing and food staff. I especially want to commend my Physical and Occupational Therapists, they helped me tremendously and were a pleasure to work with."

Guest, L.A.
"My C.N.A. goes above and beyond with guests here. She is a team player. She is always helping guests, answering call bells- even on other units as well! She is always there to help and offer a smile to the guest."
"My mom's C.N.A. is very friendly and concerned with my mom's well being… There is Great Team Work!"

Family, J.M.
"My mom's C.N.A. is a God send, compassionate, kind and most helpful. Thank you for her!"

Family, J.D.